A Native Hawaiian descendant of Kawaihapai on the North Shore of O'ahu, Moana has worked for 20+ years across public, private and non-profit organizations developing and implementing conservation, environmental, education and community engagement programs. As Assistant Executive Director at Waimea Valley, an educational non-profit, she advanced their mission to preserve and perpetuate the human, cultural and natural resources of the Waimea Valley.
Jonee Peters
Operations Manager
Born in Honolulu and raised in Kane'ohe, O'ahu, Jonee is a graduate of Castle High School who went on to earn her Associates degree in Fashion Design and Technology from Honolulu Community College, and a Certificate of Achievement from Ho`ohalike Ko Kahiko Hou La`au Lapa`au in Hawaiian traditional healing arts. Jonee was a grounds keeper in the native Hawaiian plant section at the Waimea Falls Park Arboretum, and engaged with rare native Hawaiian plants and Hawaiian birds, which guides her passion at CCH. Jonee credits her parents and kupuna (elders) who practiced lauhala (pandanus leaf) weaving, hula and chant, kahuna la'au lapa'au (native Hawaiian healing) and gathering food from the ocean, with influencing her path in life. She spent time in and around the ocean, and learned about plants as food, medicine and clothing. She loves creating fabrics and multi media art projects.
As the NWF Director of Conservation Partnerships for the Pacific, Les is a steward of the 50 year affiliation of NWF with CCH. Les is co-lead on NWF's national Diversity, Equity, Inclusion and Justice initiatives and promotes Hawai'i's critical conservation campaign on local and national stages. His projects have included bringing IUCN's World Conservation Congress to Hawai'˜i in 2016, and moblilizing national support for Papahānaumokuākea Marine National Monument. He co-founded the Great Lakes regional office of Greenpeace USA in 1978 and went on to become Regional Director, working to build conservation partnerships with indigenous and tribal leaders throughout the United States. Les went on to lead LightHawk, based in Seattle, as well as the Pacific Whale Foundation in Kehei, Maui.
Dr. Rachel Seabury Sprague
Dr. Rachel Seabury Sprague is the Director of Conservation for Pūlama Lānaʻi, which owns and manages 98% of the island of Lānaʻi for its major private landowner. Rachel earned her B.A. at Bowdoin College, and her Ph.D.from the University of Montana, focusing on physiology and behavior of Laysan albatross.
For nearly two decades, Rachel has been working wtih coastal and island wildlife, as a researcher on seabirds from the Bay of Fundy in Canada to the main and Northwestern Hawaiian Islands, as a leader of a release program for captive-bred endangered birds on California's Channel Islands, and by serving as the Hawaiian Monk Seal Recovery Coordinator with NOAA Fisheries. She moved to Lānaʻi in 2016 to help build Pūlama Lānaʻi's wildlife and habitat conservation programs. Rachel is a past president and current member of the board of directors for the Western Section of The Wildlife Society, as well as a boardmember for the Hawaiʻi Chapter of The Wildlife Society, and advisor to the Hawaiʻi Marine Mammal Alliance.
Bianca Kai Isaki, Ph.D., Esq.
Bianca has previously served as a board member and treasurer for the Conservation Council for Hawai'i. She has published on the intersections between settler colonialism, natural resource exploitation, conservation efforts, and houselessness in Hawai'i. Through her legal research corporation, she works on environmental and Hawaiian land rights issues including the protection of iwi kupuna from sand mining and ensuring environmental review of public land dispositions. She also serves on the board of KAHEA: The Hawaiian-Environmental Alliance and teaches women's studies at the University of Hawai'i.
In 1974, Robin and his wife moved to Lānaʻi to document a threatened lifestyle as the island was facing a transition from a pineapple plantation economy to resort development. As a result of that effort, he published a photographic documentary called Lanai Folks. a University of Hawaii publication now available at the Lana'i Culture and Heritage Center. Shortly thereafter, Robin began a career in the arts and nonprofit sectors, working for the Hawaiʻi State Foundation on Culture and the Arts, the California Arts Council, the Pennsylvania Council on the Arts, and the Pittsburgh Cultural Trust. In 1992, he and a partner launched the management consulting firm of Dewey & Kaye, Inc. (DKI), which worked with nonprofit organizations, foundations and government agencies. Robin's work involved board development, long range planning, and executive searches for foundation program staff and nonprofit executive directors. Robin was one of the original founders of the Lanai Limu Restoration Project, and currently serves as spokesperson for Friends of Lanaʻi. Today, he serves as the Lana'i representative on the Environmental Council, under the Hawaii State Office of Environmental Quality Control.
Born and raised in Honolulu, Colleen has always loved being in the ocean, especially surfing and canoe paddling. A graduate of Punahou School ('82), she earned her bachelor's of business degree on the mainland. Upon returning home, she was a loan officer at Bank of Hawai'i before becoming a full time homemaker to her three kids. Colleen was an active Hawaiian Monk Seal response volunteer for 15 years, teaching visitors, community members, and kids how to coexist with and be good stewards of monk seals. Colleen helped develop the foundational structure of the Hawaiʻi Monk Seal Response Team and was part of their original leadership. Colleen is passionate about all things environmental, including our unique Hawaiian ecosystem from monk seals to the Manu O Kū nesting in her yard. We are excited for Colleen to bring her experience to CCH.
Karl Magnacca has an undergraduate degree from Wesleyan University and a Ph.D. from Cornell. He is an entomologist with the Oʻahu Army Natural Resources Program, conducts research as a research associate at Bishop Museum and provides scientific consulting services. He grew up in New England, and developed an interest in insects at an early age. Since coming to Hawaiʻi in 1994, Karl has worked on a wide variety of projects including surveying, monitoring and managing endangered Drosophila flies, Hylaeus bees, and Megalagrion damselflies. He also has expertise in the biodiversity and taxonomy of native and non-native insects across native and non-native habitats in Hawaiʻi. We are looking forward to adding Karlʻs native species expertise and interest to our board.
Steven Lee Montgomery, Ph.D.
Steven Lee Montgomery has been active in conservation issues in Hawai'i since 1970, especially with CCH. As a field biologist and expert on Hawaiian entomology, he has discovered approximately 30 previously unknown insects and plants, including "killer" caterpillars, happyface spiders, and the wēkiu bug. His work has been featured in National Geographic and Hana Hou, and he uses knowledge of Hawaiian forest life to lead hikes and help CCH edit and publish wildlife education posters.
Steve served as vice-chair of the Hawai'i Land Use Commission and as a director of the National Wildlife Federation. He also served on NWF's International Committee, which prepared him to lead the push to host the IUCN World Conservation Congress in Honolulu in 2016.
Bret is the Avian Technician for the Hawai'i Island Natural Area Reserve System. He has strong experience with native Hawaiian forest birds, seabirds, and natural resources management. Bret has volunteered with a variety of organizations, including the Hawaiʻi Wildlife Centers' Hawaiʻi Island Festival of Birds, the Friends of Hakalau, and Audubon societies on the mainland. He has experience with successful social media campaigns and fundraising for conservation, and we are looking forward to his input on CCH's science, advocacy and community engagement efforts. Bret has an undergraduate degree in wildlife ecology and management from Utah State University and is currently finishing his masters' degree in Tropical Conservation Biology and Environmental Science at the University of Hawaiʻi at Hilo, studying ākiapōlāʻau.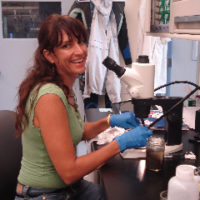 Lisa Hinano Rey learned about CCH while working as a policy advocate with Marjorie Ziegler on the Environmental Caucus of the Democratic Party of Hawaii from 2008 to 2018. She began as a volunteer with CCH and joined the board of directors in 2017. Hinano holds a M.S in Sustainable Management and a B.S. in Natural Resource and Environmental Management with a focus on policy and cultural resource management. As a child, she attended Kaneohe Elementary and King Intermediate, then completed high school in San Francisco. She returned home to Oahu to raise her daughters, who are alumnae of UH Manoa.
Hinano is interested in sustainable land use in island settings, watershed management, integrated environmental management, culturally responsive natural resource management, carbon sequestration, tropical agroforestry and native tropical dryland reforestation. She is particularly influenced by her time living on traditionally managed farmlands on Tahiti island, Moorea and Raiatea in French Polynesia, where she learned to care for the land from her Tahitian elders.
Sunshine Woodford is a long-time member and volunteer for the Conservation Council for Hawaii. One of her favorite experiences is volunteering with a CCH crew at Hakalau, where she pulled invasive plants such as Banana Coca and Himalayan Raspberry as well as collected native seeds. A real estate agent based on the Big Island, Sunshine grew up in Kailua and graduated from Kalaheo High School. She earned her B.A. from the University of Hawaii at Manoa and an MBA from the University of Phoenix. Sunshine was a Contract Specialist at Volcanoes National Park for seven years, where she lead acquisition and procurement for national parks across the Pacific. Sunshine loves exploring and hiking across the Hawaiian Islands and has hiked and kayaked the Na Pali Coast many times. She lives in Puna with her boyfriend Brandon, Rottweiler Lani, and 2-month old Arianna with whom she shares her love of nature and conservation.